Cravens House is a great place for family excursions and school field trips.
Did you know that the very last battle of the Revolutionary War was fought right where Cravens House is? Yes, and it was fought almost two years after the war was over. Imagine how the world has changed since 1782 and since then important things have continued to happen on that mountain and in the Chattanooga valley that lies below.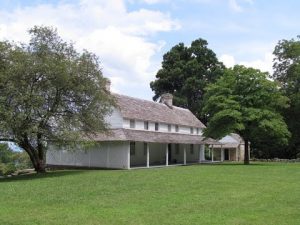 In one afternoon you and your children can travel through hundreds of years of Chattanooga history in a 15-minute drive up Lookout Mountain and make memories that your children can share (in 30 years or so) with their children.
A cloud of fog hovered halfway up Lookout Mountain on November 24, 1863. Almost 150 years ago the Battle of Lookout Mountain was fought, a battle that would become known as the "Battle Above the Clouds." Chattanooga, and its families, was deeply divided between Union and Confederate sympathies. The railroads, rivers, mountaintop views, and saltpeter mining all made the Scenic City an important and valued strategic goal and it was a focal point of high drama during the Civil War.
Lookout Mountain
As you wind your way up the mountain you can talk to your children about the 15-minute drive and see if they can guess how long it took early Chattanoogans to climb that mountain. The St. Elmo Incline Station has live music most weekends and is a way to start an adventure. Children are often amazed that the marvelous mile up the mountain was built before cars! The cables come from the same company that provides them to the Golden Gate Bridge in San Fransisco and have been carrying passengers since the 1890s.
There is enough to do on Lookout Mountain that a family could plan two days of fun and along the way learn about our history from Chief Dragging Canoe and the Revolutionary War to the Civil War, engineering marvels, and the breathtaking views above and below ground! During the winter Rock City turns into the Enchanted Garden of Lights and Ruby Falls is home to Ruby Red Christmas and families can celebrate the season amid natural formations, caves, and vistas that formed millions of years ago when the mighty crash of tectonic plates thrust a mountain and its wonders up to a prehistoric sky.
Battles of Chattanooga Museum
The Battles of Chattanooga Museum does a terrific job of providing both a visual landscape that explains the occupation and movements during the Civil War and a dramatic narration that puts the war, our city, and landmarks familiar to us in the context in an entertaining way. Point Park, one of the many National Park Service sites in Chattanooga that preserve both nature and history while providing educational and recreational opportunities for citizens and visitors. The National Park Service maintains a great website (www.nps.gov) that helps a family plan their trip to the Lookout Mountain and Chattanooga sites, offering lots of great suggestions, history, details, and pictures that can make the planning process something exciting enough to even engage our multi-media savvy kids.
Trails are clearly marked and the adventurous family can hike from Point Park down to Craven's House and back in an energetic afternoon. Climb into the rifle pits and compare your picnic contents to the hardtack, chicory coffee, and rancid meat that Civil War soldiers ate in those same pits almost 150 years ago.
Natural Bridge
The Natural Bridge is a public park with a prehistoric past. Spiritualists during the early 1900s had their national meetings nearby, fed by the chalybeate springs that also drew early Chattanoogans during the Yellow Fever outbreak of the early 1800s. The massive rock that is marvelously perched to form a bridge has thrilled children and families since people began exploring and settling the area. An ancient news report from the Chattanooga Times reported that a massive Megalodon tooth was found nearby and that is an amazing illustration to children and adults alike of the power of the past, creating imagery of the water-covered valley as tectonic plates crashed and mountains formed, trapping that sad shark on top of the world!
Children learn about tectonic plates, prehistory, and the crashing creation of mountains in books and in-class but lessons with their parents can create indelible memories that make the learning and the knowing joyful. Chattanooga is rich with these opportunities and taking advantage of them is easy, affordable, and fun. The natural formations on Lookout Mountain are a perfect landscape for teaching and in those lessons about our shared history, you and your children can look toward a bright and fun future.
Cravens House
Point Park Visitor Ctr
Lookout Mountain, TN 37350
Phone: (423) 821-7786