Here you will find information on the inspirational city. The city has a rich history and has a wealth of activities for new visitors. Take a look around and see if Chattanooga will be your next vacation spot.
Tennessee Aquarium and IMAX Theater
One of Chattanooga's newest jewels, the world's largest freshwater aquarium has an array of living exhibits and a six-story IMAX 3D theater.

Tennessee Aquarium & IMAX 3D Theater
One Broad Street
Chattanooga, TN 37402
800-262-0695
The Tennessee Aquarium in Chattanooga inspires wonder and appreciation for the natural world. Journey through a spectacular 60-foot canyon and two living forests, where you'll see more than 9,000 animals that swim, fly and crawl in natural habitats.
Home to more than 9,000 animals representing 575 species of fish, crustaceans, mussels, amphibians, reptiles, birds and mammals, the Tennessee Aquarium tells the story of freshwater ecosystems. We follow the Tennessee River from its Appalachian beginnings through the swamp waters of the Mississippi River and into the Gulf of Mexico, making side trips to some of the world's other great rivers. On these pages, you will learn about some of our animals, our conservation programs and opportunities in our husbandry intern program. We will be adding more information all the time so visit us often!
Hours of Operation: Visitors may enter the Tennessee Aquarium any time from 10:00 a.m. – 6:00 p.m. ET and the first IMAX show is at 11:00 a.m. The Tennessee Aquarium and IMAX 3D Theater are open every day except Thanksgiving and Christmas Day.
Hunter Museum of American Art
10 Bluff View, Chattanooga, TN 37403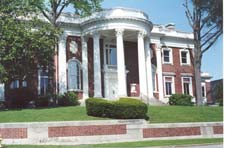 Built on a ninety-foot limestone bluff overlooking the Tennessee River and comprised of a 1904 classical revival mansion and a contemporary structure, the Hunter Museum of American Art houses the finest collection of American art in the Southeast.
The collection of the Hunter Museum spans the history of American art from the colonial period to the present-day and covers a wide variety of media including painting, sculpture, contemporary studio glass, and crafts
Mayor's Mansion Inn
801 Vine Street, Chattanooga, TN 37403
Entering Fortwood, Chattanooga's premier historic district, you are immediately greeted by a magnificent mansion built in 1889 by the city's mayor. Picture majestic oaks sheltering his massive stone Victorian treasure that carries an award for historic preservation from The National Trust. Next, find yourself exploring lazy porches, 16-foot coffered ceilings, hand-painted murals, and breathtaking mountain views in every direction.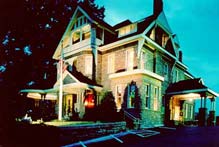 Hidden among the treasures of yesteryear you suddenly discover the subtle modern conveniences of 300-gallon soaking tubs, televisions, VCRs, and modem connections. Most importantly, you will rest easy always knowing our dedicated hospitality team eagerly awaits every opportunity to make your stay as unforgettable as your surroundings.
Rock City on Lookout Mountain
Spectacular views, gardens, and unusual rock formations from the natural splendor of Lookout Mountain. Special events held throughout the year, including the Enchanted Garden of Lights mid-November through New Years.

Lookout Mountain, TN
877-820-0759
Lookout Mountain Attractions
Lake Winnepesaukah Amusement Park
Lake Winnepesaukah is the South's favorite family amusement park. For over 75 years, the park has offered fun for all ages at reasonable prices. Lake Winnepesaukah features over 30 rides designed with the entire family's enjoyment in mind. Guests may purchase individual ride tickets or an unlimited ride pass.
– Gate admission is $3.00.
– Children under 2 are admitted free with a paying adult.
– Unlimited rides are $17.00.
– Plenty of free parking!
– Open May 2 through August 11, Thursday through Sunday.
– Open August 17 through mid-September, weekends only.
– Open Labor Day.
Ruby Falls
A stunning natural wonder within the crevices of Lookout Mountain, Ruby Falls is a 145-foot underground waterfall. The guided tour includes information on the geological formations and the history of the Falls.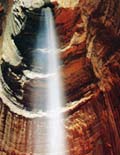 Ruby Falls
Lookout Mountain, TN
423-821-2544
Ruby Falls
Incline Railway
Billed as the world's steepest passenger railway, the Incline offers scenic roundtrip rides up and down Lookout Mountain.

Lookout Mountain Incline Railway
827 East Brow Road
Lookout Mountain, TN 37350
423-821-4224
Lookout Mountain Attractions
Southern Belle Riverboat
Lunch and dinner cruises on the Tennessee River give you a unique perspective on Chattanooga. It provides informative commentary on the city's history and landmarks.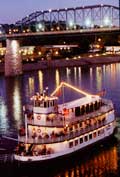 Chattanooga Riverboat Co.
201 Riverfront Parkway, Pier 2
Chattanooga, TN 37402
423-266-4488
True Southern Hospitality prevails in the old riverboat tradition aboard the 500-passenger, climate-controlled Southern Belle riverboat. While you are cruising on the Tennessee River you can dine on some of Tennessee's finest meals. Enjoy our "Dixieland Dinner Cruise", complete with our world-famous slow-cooked prime rib, shrimp Creole, and the toe tappin' music of the Riverboat Ramblers.
Other dinner cruises include our Papa John's Pizza Cruise, Classic Country Cruise, Gospel Cruise, and Family Night Cruise. History unfolds in a unique manner during the Southern Belle's Sightseeing Cruise. Enjoy the informative commentary as you float down the beautiful Tennessee River. The daily Lunch Cruise features our "Build-Your-Own-Sandwich" Buffet with a delicious assortment of meats, cheeses, breads, and condiments.
Distances
Chattanooga Battlefield (15.0m/24.1km S)
Chattanooga Choo Choo (7.0m/11.3km W)
Downtown Chattanooga (5.0m/?)
Holiday Bowl (0.0m/0.0km –)
Incline Railway (12.0m/19.3km W)
Lookout Mountain (12.0m/19.3km W)
Rock City (12.0m/19.3km W)
Ruby Falls (12.0m/19.3km W)
Southern Bell Riverboat (8.0m/12.9km W)
TN Aquarium and IMAX Theater (6.0m/9.7km N)
Nearby Businesses
AT&T Training Center (0.2m/0.3km N)
Erlanger Medical (6.0m/9.7km W)
Hamilton Place Mall (3.0m/4.8km E)
Office Depot (0.4m/0.6km W)
State Farm Processing Center (3.0m/4.8km E)
TVA (6.0m/9.7km W)
Warehouse Row (6.0m/9.7km W)